Marketplace
Wholesale and Retail Auto Marketplace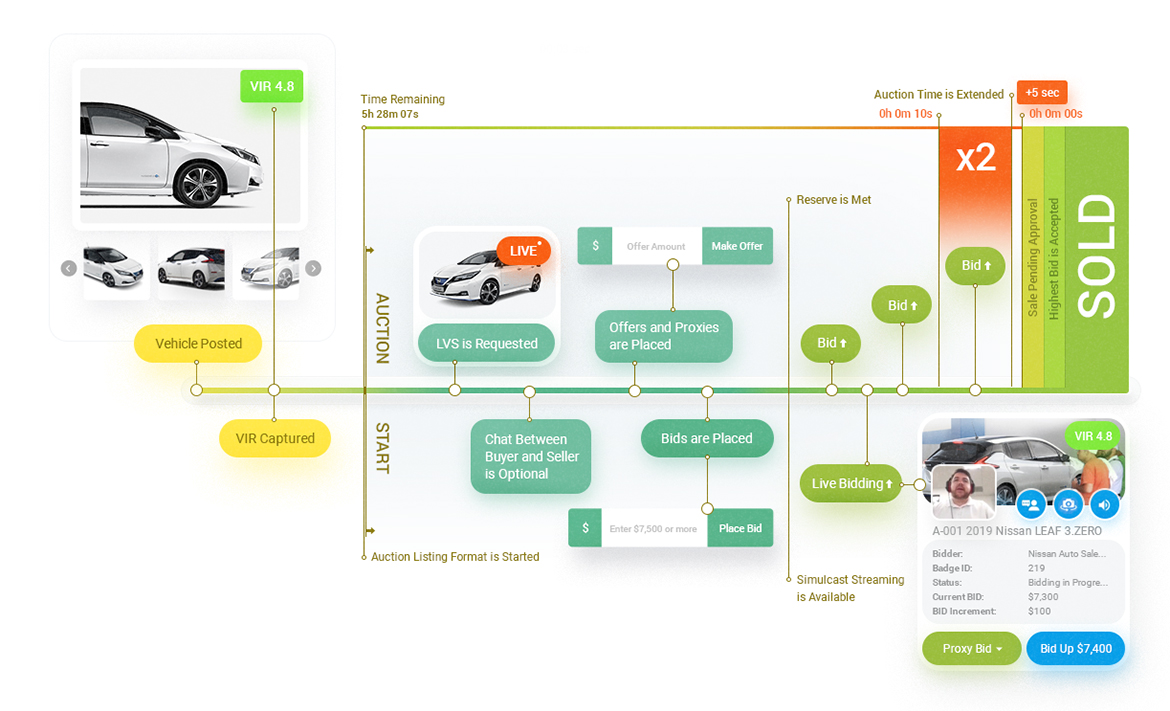 View Gallery
Auto Marketplace software is available for dealers.

Customer Reviews
Don't just believe bare words, read what our customers say.

Request Demo
We would love to hear your suggestions, comments and questions!

FAQ
Frequently asked questions about Autoxloo products.

Autoxloo Auction Marketplace Platform
Outstanding Features Are As Follows: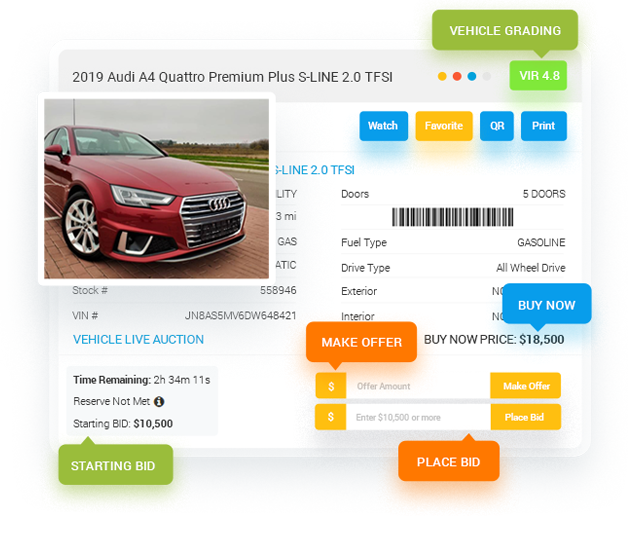 Complete Bidding Platform
We offer you a complete bidding platform which covers all auction scenarios. If your customers don't want to wait for the end of the auction and purchase a vehicle at that very moment they see a vehicle, they can use our "Buy Now" feature. With the help of "Make Offer" customer has a possibility to submit his/her own price for a vehicle which only the seller can accept or reject. "Reserve Price" feature lets a seller to agree trade the vehicle for reserved price, but no earlier than the end of the auction.
Give your customers possibility to make bid increments in a real-time format with "Live Bidding" or set up "Proxy Bidding", a process of multiple bids and outbids at the end of which the auction winner buys a vehicle at the lower price than he/she was ready to pay.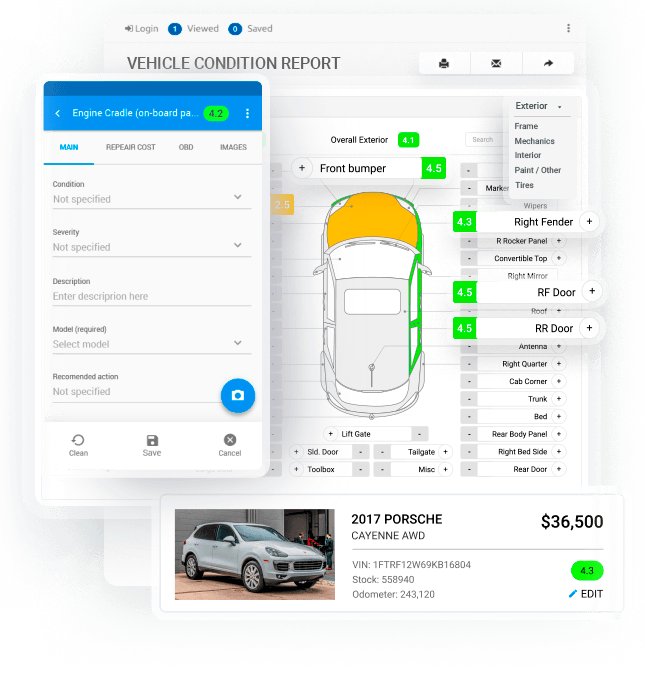 Vehicle Inspection Report™ with Grading
Check out our VIR™ module, vehicle evaluation method. A colored grading is carried out for the separate vehicle parts and for the vehicle as a whole. A final grade is given to a vehicle by summarizing all other grades on its condition, separate part condition, outer look, damages, etc. Reduce post sale complaints and arbitration claims. VIR™ is compatible with Android & iOS devices.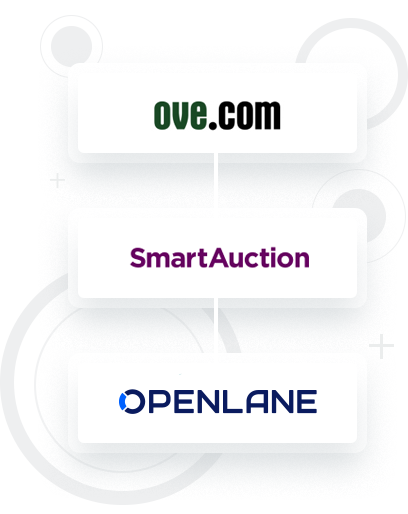 AuctionLink™ Integration with other auctions
With our AuctionLink™ datafeed we will push your vehicle inventory to the top online automotive marketplaces like SmartAuction, OVE, Adesa. Seamlessly post vehicle on to the market place with a comprehensive inspection report attached.
Get your inventory in front of millions of potential customers from around the world! We can go live instantly, you don't have to do double work as there is no need to wait for data feed to come because we host inventory.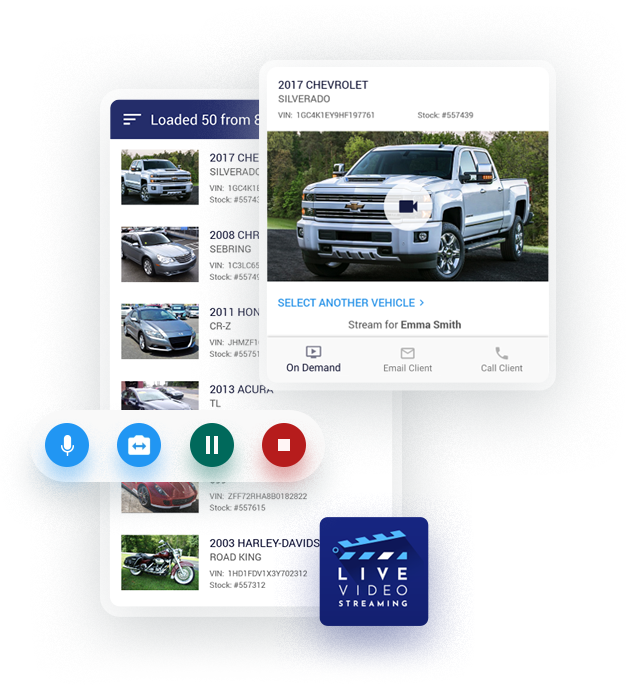 Live Video Streaming™ – "Simulcast"
Meet a brand new unparalleled feature by Autoxloo! It is a real-time video session presenting a vehicle on the customer's request. LVS™ tool allows your customer to see the vehicle live and to make a quick decision on its purchase. Unlike Simulcast online auction system Live Video Streaming™ is available for everyone and is very flexible.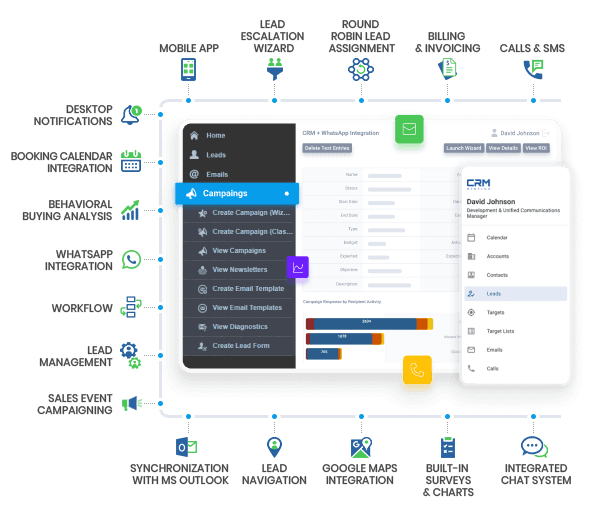 CRM Interface Managing the MPS
For your ease Autoxloo Auction Marketplace Platform has prepared a full set of features and convenient tools for auction management. Only registered buyers are given a possibility to buy. Take advantage of having a full list of bids customers made for a vehicle.
You can turn on countdown timer (optional extended timer) that shows the time left before the end of the auction. Set up buy/sell email notifications to your customers' mobile devices. Don't lose new customers with our integrated CRM system. Keep your finger on the pulse of your car dealer business.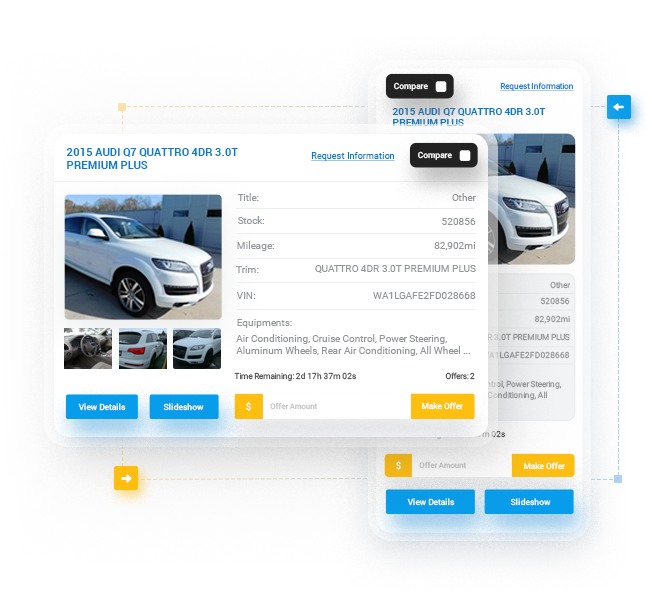 Website Interface Benefits
Autoxloo Auction Marketplace is compatible with all known devices, all major smartphone platforms and OS, including Android, Apple and Windows. We understand what it takes to build an SEO friendly Responsive Website for our dealers that is designed specifically to convert shoppers into buyers.
The Autoxloo marketplace is built using MAP 2.0™ (Make-A-Page 2.0™) "Responsive" technology assuring a seamless user experience across all devices while maintaining the flexibility needed to keep up with ever changing market conditions.
Easily attach large format images and vehicle video to impress customers with your inventory. Vehicle history reports will help you track the statistics and trends on vehicle upgrades, popularity, prices, auctions, bids, demand, etc.
Today wholesale and retail Auto Marketplace is a hi-tech platform allowing car dealers, dealer groups, resellers, auctions, etc. to sell their vehicles in the auction mode. We have recently launched a new Auction Marketplace Platform that is currently being used by several auctions, dealers and financial institutions with a great success.
There are more transactions made to Marketplace than to the traditional automotive auctions because it puts more eyeballs on the same vehicle. Some use Marketplace for a cost avoidance, others need it to generate additional revenue that is lost during the normal lifecycle of remarketing. In any case Autoxloo Marketplace platform satisfies all picky needs and requirements of the fast developing car dealer world.