Ai 'Bubble' Virtual Agent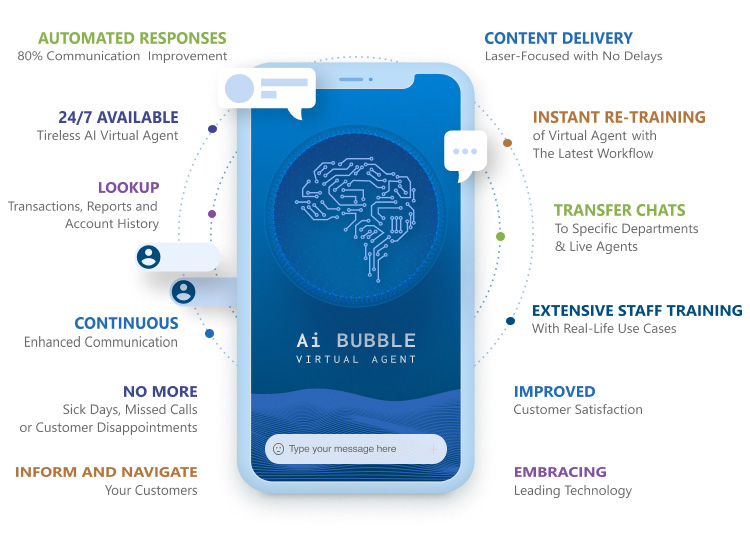 Imagine a tireless Virtual Agent that is available 24/7 to interact and respond to your clients needs. Auction Streaming is introducing the only Artificial Intelligence-Powered Virtual Agent that can answer specific questions and pull up the content of items purchased and sold by your clients through your platform.
Whether there is just a few inquiries or all your clients at the same time, the AI 'Bubble' Agent will engage and instantly navigate them to the specific answer they are seeking and hold them in the Dialog box queue until your customer service agents are able to pick up the chat.
INFORM AND NAVIGATE VISITORS

This virtual assistant can answer the simplest questions as to "How do I register" to "Process my Payment for my Purchase" for signed-in clients and send email notifications of the actions completed by the agent.

ZERO DELAYS AND LASER-FOCUSED CONTENT DELIVERY

Navigate your clients to the Frequently Asked Questions, How To Videos landing page, Download links and reports, to lead them to what they seek, reducing the repetitive tasks from your staff by 60%, to do more meaningful and sales-oriented tasks, improving overall clients experience.

TIRELESS AI VIRTUAL ASSISTANT THAT IS AVAILABLE 24/7

No more sick days, interruptions, missed after-hours calls, or untrained staff paired up with your clients, which leads to their frustration, undermining your professional reputation. Track the most common questions and responses the system generates to be proactive in improving the customer journey for the next sales events and automating the report delivery as needed.
TRANSFER CHATS TO SPECIFIC LIVE AGENTS

Each engagement can be transferred to a specific department and placed in a chat queue to correspond with a LIVE AGENT. Inform your agents with the history of requests leading up to the transfer and information related to the specific clients status for a more rapid and purposeful interaction.

EASIER STAFF TRAINING AND SCALING OF YOUR BUSINESS

Reduce labor costs while increasing your customer satisfaction and avoid the long queues of phone calls to answer up to 80% of the repetitive requests and questions with Auction Streaming AI 'Bubble' Agent.
Request a demo today to see this revolutionary solution in action!