Effectively managing your reputation online can have a dramatic effect on your dealerships bottom line – period"
Scott D – GM – Palm Beach FL
"We experienced a significant increase in the number of calls that resulted in booked appointments"
Jason S – Internet Manager – Tampa FL
"A dealer who thinks they don't need to hire a third party company to manage their online reputation is sadly mistaken"
Brian K – GSM – New York NY
"Negative comments, reviews and ratings are poison for any dealership and need to be addressed aggressively"
Elliot B – Dealer Principle – San Diego CA
With the invention of "Price Match Guarantee" by today's top retail outlets and the sheer amount of pricing data available online, consumers are less concerned about price and more concerned with how they will be treated by a dealer before, during and after the sale. Fortunately for the consumer this information is also readily available online and those car dealers who are not actively monitoring their online reputation will undoubtedly be at a considerable disadvantage.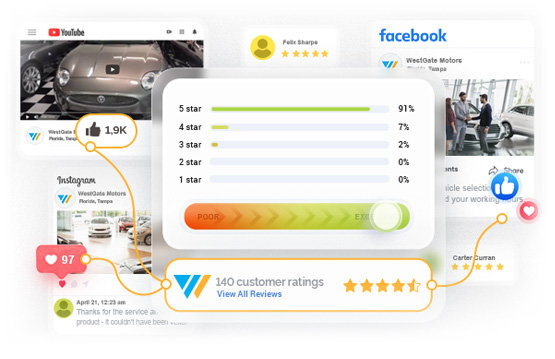 Perform Google search to identify websites that contain negative reviews/comments/articles.
Strategically target to most relevant websites/review portals.
Create a mass mail campaign requesting testimonials from your existing customer base (attach promotion as incentive).
Utilize "real" testimonials to drive negative reviews down and/or if possible off the page(s) on a daily basis (1 review added per day per site).
Restore consumer confidence in dealership – "Name" "Brand" and "Service".
Upload actual video testimonials to various media websites (tag each video for maximum SEO value).